Director
Rains is a trans activist. She is a founding member of Pratyay Gender Trust and has been working as an activist for twenty years. She also worked with Manas Bangla, briefly as a supervisor and she worked in Delhi with Azaad Foundation as a counsellor and Society Human Alliances and Needs; as a project manager for their Project with Sex workers. She has conducted several workshops and seminars about gender all over India. She has also organised Take Back the Night, Kolkata. She has directed several plays about LGBTQ workshops. She is one of the founders of Amra Odbhuth an art collective working towards creating more performance LGBTQ spaces.
Field Coordinator

Amrita is a trans dalit activist. She worked with Manas Bangla in Accounting. After that she worked as a board member (briefly) with PLUS. She has done a lot of work as a researcher and evaluator with the community.
Outreach Officer
Diyasha is a trans Activist who has worked with the workers' and LGBTQ movements for several years. She is a designer by profession.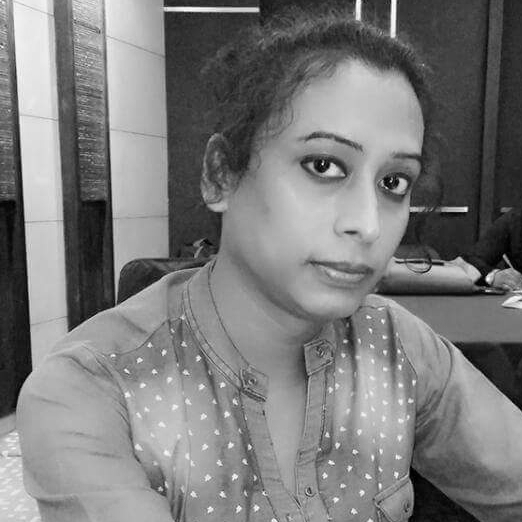 Field Coordinator
Rajani is a dalit trans activist. She has worked with the community for several years and is an incredibly efficient and hard worker. She works with Kashish as a peer educator and People Like Us (PLUS). She was also a sex worker and worked a launda dancer in North Bengal.


Field Coordinator
Suphee is a trans activist, Suphee worked with trans organisation Manosh Bangla, and Pratyay Gender Trust. And is a founding member of Samabhabona.
Founder and Member
Ashmita is a trans activist who has worked with Pratyay Gender Trust and Kashish. Apart from being an activist she runs a small shop to support her family.
Project Officer

Upasana is a queer, non binary Feminist Activist. hey have worked with many organisations and collectives such as PeaceWorks (an organisation working with street children to reduce communal intolerance post Gujarat riots in 2002), as an illustrator for Point of View and Human Rights Law Network. She/they are a former sub-committee member of Das Theke Das Hajar, and organiser of Take Back the Night, Kolkata. They are also the founder and organiser of Amra Odbhuth, an LGBTQ art Collective. Apart from this they have done documentation work for CREA, and is the current Documentation Officer for Samabhabona.
Advocacy Officer
Nandini is a queer, non binary activist. They have volunteered for organisations such Sangama, Swabhava and Good as You. They have been involved with the organising of Pride and Slut Walk, Bangalore. They also worked with Queer Campus, Bangalore and Bangalore Film Festival. In Calcutta, apart from working for Samabhabona, they are a member of Take Back the Night, Kolkata and founder and organiser of Amra Odbhuth, an LGBTQ art Collective. They are Samabhabona's Advocacy Officer. They were also a former sub-committee member for Das Theke Das Hajar.
MENTORS
Vvjayanti Vasanta Mogli: Trans activist, Telengana Hijra Samiti.
A. Revathi: Trans Activist, Writer of The Truth About Me : A Hijra Life Story and A Life in Trans Activism
Ani Dutta: Assistant Professor in the departments of Gender, Women's and Sexuality Studies and Asian and Slavic Languages and Literatures at the University of Iowa
Karthik Bittu Kondaiah: Trans Activist: Queer Dalit Manfesto: Faculty Member at Ashoka University.
Debanuj Dasgupta: Assistant Professor of Geography at University of Connecticut
Brinda Bose: Assistant Professor at Centre For English Studies, Jawaharlal Nehru University
SOLIDARITY
Sayan Bhattacharya: Ph.D Scholar in Gender,Women and Sexuality Studies · University of Minnesota
Shreya Ila Anasuya: Independent Writer, SOAS, Editor at Skin Stories, Point Of View.
Indrani Kar: Manager, Corporate Communications at Globsyn Innoventures Pvt. Ltd.
Paul Boyce: Senior Lecturer in Anthropology and Inteal Development (Anthropology, International Development), University of Sussex
Rohit K. Dasgupta: Lecturer at the Institute for Media and Creative Industries, Loughborough University, London
Srila Roy: Associate Professor at Witwatersrand University , Johannesburg, Gauteng
Pritam Bhaumik: Guest Lecturer at South Calcutta Girls College
Shaswata Lahiri: Liberal Social Worker and Activist